Introduction to
Three-Axis Horizontal Screen
The three-axis horizontal screen is installed horizontally. The screening machine uses three sets of vibrators as excitation sources, and the motion trajectory of any point on the screening box is a linear ellipse. The material moves in a linear ellipse on the screening surface.
Three-axis horizontal screen is suitable for dry and wet screening of coal, mining, and sand and gravel aggregates. It combines the advantages of circular vibrating screen that loose materials are not easily blocked, and linear vibrating screen that transports materials quickly and has a low center of gravity.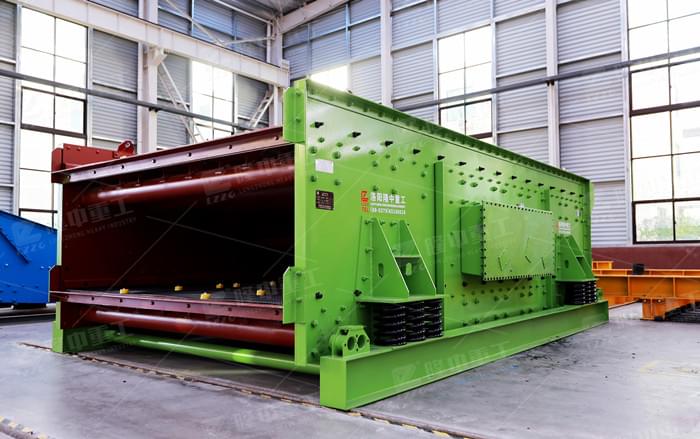 Working principle
The three-axis horizontal screen is composed of screen frame, spring, bottom frame, exciter, transmission device, motor, screen mesh, etc
When the three-axis horizontal screen is working, the power is transmitted from the motor through a triangular belt to the driving shaft and gear vibrator of the exciter (with a speed ratio of 1), achieving the rotation of the three shafts at the same speed, generating excitation force. The exciter is connected to the screen box with high-strength bolts, resulting in elliptical motion.
The material moves in a high-speed elliptical motion on the screen surface, quickly layering, passing through the screen, and moving forward to complete the classification of the material.
Features
1.Small footprint, compact structure, and a processing capacity 70% higher than that of the same model of vibrating screen.
2.The vibration amplitude, frequency, and direction angle can be adjusted according to different needs.
3.The running trajectory of the screening machine is elliptical, with smooth movement and low power consumption.
4.The material screening is smooth, not easy to block holes, and has good screening performance.
Specifications
| | | | | | | | | |
| --- | --- | --- | --- | --- | --- | --- | --- | --- |
| Model | Screen Area(㎡) | Screen layers | Screen Aperture (mm) | Capacity (t/h) | Power (kw) | Excitation Force (KN) | Weight (kg) | Overall Size(mm) |
| 1848 | 8.64 | 2 | 5-50 | 50-400 | 22 | 35 | 5000 | 5900X3100X1700 |
| 1848 | 8.64 | 3 | 5-50 | 50-400 | 22 | 40 | 6000 | 5900X3100X2000 |
| 1860 | 10.8 | 2 | 5-50 | 50-400 | 22 | 40 | 6000 | 7100X3100X1700 |
| 1860 | 10.8 | 3 | 5-50 | 50-400 | 30 | 45 | 7000 | 7100X3100X2000 |
| 2060 | 12.6 | 2 | 5-50 | 50-600 | 30 | 50 | 8000 | 7100X3300X1700 |
| 2060 | 12.6 | 3 | 5-50 | 50-600 | 30 | 60 | 9000 | 7100X3300X2000 |
| 2460 | 14.4 | 2 | 5-50 | 100-700 | 30 | 60 | 9000 | 7100X3700X1800 |
| 2460 | 14.4 | 3 | 5-50 | 100-700 | 37 | 70 | 11000 | 7100X3800X2100 |
| 2760 | 16.2 | 2 | 5-50 | 100-800 | 37 | 70 | 11000 | 7100X4300X2000 |
| 2760 | 16.2 | 3 | 5-50 | 100-800 | 45 | 80 | 13000 | 7100X4400X2300 |
| 3060 | 18 | 2 | 5-50 | 100-900 | 55 | 80 | 13000 | 7100X4600X2200 |