Introduction to
Portable Wash Plant
Portable wash plant is a new type of mobile aggregate washing machine. LZZG portable wash plants integrates screening, washing, dewatering and fines recycling in a compact unit, the whole washing process is smooth, efficient and environmentally friendly, and can provide customers with systematic and flexible modular solutions.
LZZG portable wash plant is installed on the chassis of heavy truck. Each module unit is easy to install and disassemble, which is very suitable for construction contractors or temporary sand plants.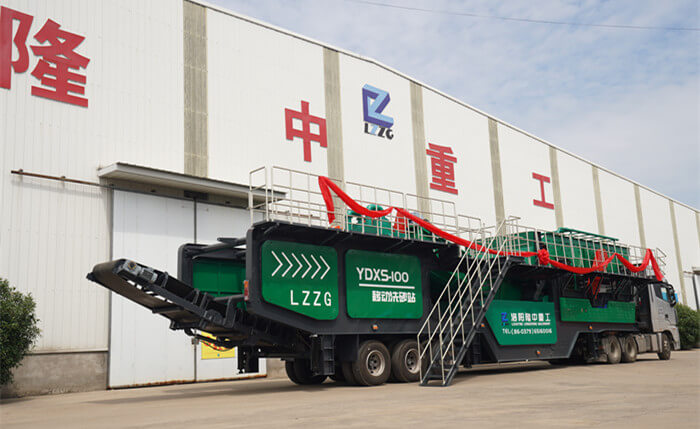 Working principle
[Portable Wash Plant Structure]: mobile trailer chassis, screening unit, water washing unit, dewatering unit and fines recovery unit, slurry pump and motor components, belt conveyor, electric control and hydraulic system, etc.
[Working Process]: Raw materials of artificial sand or natural sand are fed to screening unit through belt conveyor, the materials on the screen are transported to storage yard as finished product by belt conveyor, and the materials under the screen enter into the sand washing unit through launder and will be fully processed in sand washing device. After soaking, mixing, cleaning by washing unit, the cleaned materials are transported to the front-end dewatering unit for dehydration and fines recovery, and the qualified finished sand is produced.
Features
1. Highly integrated and automated design eliminates tedious tasks such as site layout and foundation installation.
2. With strong mobility, the wash plant is flexible, convenient, efficient, environment-friendly and intelligent to use. And it is an integrated workstation with screening, washing, recovery and dehydration.
3. The integrated aggregate wash plant eliminates the complex site infrastructure installation work of separated components, reduces the consumption of materials and working hours, and the reasonable and compact space layout of the units improves the flexibility of site stationing.
4. Materials can be processed on site, which greatly reduces material transportation cost.
5. Customizable services are provide according to different material types and product requirements, we can provide more flexible process and units configuration to meet the requirements of users.
6. Strong adaptability and LZZG wash plants can be operated independently or in groups with crushing equipment and tail water treatment equipment at the back end.
Specifications
| | | | | | | | | |
| --- | --- | --- | --- | --- | --- | --- | --- | --- |
| Model | Feeding Size (mm) | Capacity (t/h) | Screen Mesh(mm) | Spiral Diameter (mm) | Screen Panel (mm) | Hydrocyclone (mm) | Power (kw) | Overall Size (mm) |
| YD-50 | ≤10 | 30-50 | 1500*4800 | 920 | 1200*2400 | 250*2 | 63 | 17500*3000*4800 |
| YD-80 | ≤10 | 50-80 | 1800*6000 | 1120 | 1500*3000 | 300*2 | 81.5 | 17500*3000*4800 |
| YD-100 | ≤10 | 80-120 | 2100*6000 | 920*2 | 1800*4200 | 350*2 | 126 | 17500*3000*4800 |