Cement mine waste to make construction aggregate and sand
Date: Jan. 14, 2022
If you are interested in our products, Please get in contact with us .
Date: Jan. 14, 2022
Chat Line
Send Inquiry
It is reported that the Sanmenxia Tengyue Tongli Cement Green Building Materials Park project has a planned total investment of 2.57 billion yuan. It uses the exfoliated materials in the company's existing cement mine production process to process and produce building aggregates, machine-made sand and other building materials products, extending the original cement manufacturing industry. It will develop into a new ecological industry chain of the building materials industry, and create a green new building materials industry cluster integrating cement manufacturing, aggregate processing, machine-made sand production, commercial mixing stations, dry-mixed mortar, and prefabricated components.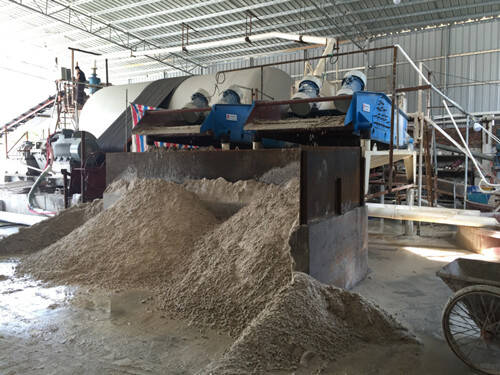 Comprehensive Utilization of Mine Stripped Waste Rock in Cement Production
Tuff is a pozzolanic material with certain pozzolanic properties and activity. Gangu Qilianshan Cement Co., Ltd. (referred to as Gangu Company) Wujiahe Marble Mine Stripped waste rock part is tuff, and the iron content is relatively The ratio of iron and aluminum is stable, and the ratio of iron and aluminum meets the requirements of producing low-alkali cement. By refining the mining plan, improving the raw meal batching system, optimizing the batching plan, and strengthening the inspection and monitoring of batching and other measures and methods, Gangu Company uses mines to strip waste rock (tuff ) to replace sulfuric acid slag to successfully produce low-alkali cement, and use it as a cement admixture to replace fly ash for ordinary cement production, and good results have been achieved, and the stripped waste rock (tuff) has been reasonably utilized.
The large processing capacity of the machine-made sand production line provides another raw material supply channel for concrete enterprises, which can effectively alleviate the production dilemma caused by the problem of "sand shortage". At the same time, the price of machine-made sand is relatively low, and high-quality machine-made sand also guarantees the quality of concrete.
Send us a message
You can also send a message to us by this email export@lylzzg.com, we will reply to you within 24 hours. Now tell us your needs, there will be more favorable prices!