Belt conveyor good price and stable quality
Date: Oct. 16, 2021
If you are interested in our products, Please get in contact with us .
Date: Oct. 16, 2021
Chat Line
Send Inquiry
Belt conveyor (belt conveyer) is also called belt conveyor, commonly known as "belt conveyor". At present, in addition to rubber belts, there are conveyor belts of other materials (such as pvc, PU, ​​Teflon, nylon belts, etc.). The belt conveyor is composed of a driving device to tighten the conveyor belt, and the middle frame and rollers form the conveyor belt as the traction and load-bearing components, so as to continuously convey the scattered materials or finished products.
Belt conveyor is a friction-driven machine that transports materials in a continuous manner. It can be used to form a material conveying process on a certain conveying line from the initial feeding point to the final unloading point. It can carry out the transportation of broken materials and the transportation of finished items. In addition to pure material transportation, it can also be matched with the requirements of the technological process in the production process of various industrial enterprises to form a rhythmic assembly line. Therefore, belt conveyors are widely used in various modern industrial enterprises. Belt conveyors are widely used in mine tunnels, mine surface transportation systems, open-pit mining sites and concentrators. It is used for horizontal transportation or inclined transportation. Very convenient to use.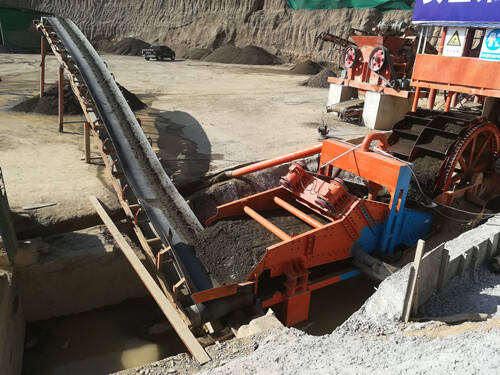 Belt conveyor is an ideal high-efficiency continuous transportation equipment for coal mines. Compared with other transportation equipment (such as locomotives), it has the advantages of long transportation distance, large transportation volume, continuous transportation, etc., and it is reliable in operation and easy to realize automation and centralization. Control, especially for high-yield and high-efficiency mines, belt conveyors have become the key equipment of coal mining mechatronics technology and equipment.
The main feature of the belt conveyor is that the machine body can be easily extended and contracted. It is equipped with a belt storage bin. The tail of the machine can be extended or shortened with the advancement of the coal mining face. It has a compact structure and can be directly laid on the roadway floor without a foundation. The frame is light and easy to disassemble and assemble. When the transport capacity and transport distance are large, an intermediate drive device can be equipped to meet the requirements. According to the requirements of the conveying process, it can be conveyed by a single machine, or multiple units can be combined into a horizontal or inclined conveying system to convey materials.
Belt conveyors are widely used in metallurgy, coal, transportation, hydropower, chemical industries and other departments because of their advantages such as large transportation capacity, simple structure, convenient maintenance, low cost, and strong versatility.
Belt conveyors are also used in building materials, electric power, light industry, grain, ports, ships and other sectors.
Send us a message
You can also send a message to us by this email export@lylzzg.com, we will reply to you within 24 hours. Now tell us your needs, there will be more favorable prices!