300 tph sand washing and screening plant configuration price
The granite sand making, sand washing production line is a typical three-J crushing sand making line. It adopts the classic configuration scheme of PE jaw crusher, cone crusher and PCL vertical impact crusher. The sand washing part is equipped with a 2050 large dewatering screen. The sand washing machine is produced, and a fine sand recovery machine is also provided. The complete set of equipment operates stably, with high production efficiency, large output of finished sand, good shape of finished product, and considerable profit.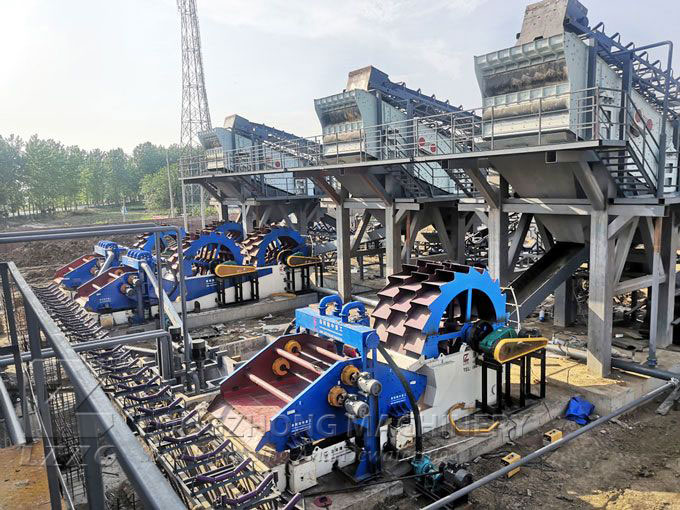 200-300 tons/hour sand making and sand washing dewatering screen production line scheme design:
Processing materials: granite, river pebble
Output: 200-300 tons per hour
Feeding particle size: ≤600mm
Discharge size: 0-5mm, 10-20mm, 20-31.5mm
Application: concrete mixing plant, expressway
The material enters the PE-750×1060 jaw crusher from the GZG1200×1800 vibrating feeder for rough crushing, and the crushed material is transported to the regulating silo.
The belt conveyor is sent to the PSGB-1325 cone crusher for medium and fine crushing. Then, it is screened by the 3YK2675 vibrating screen. The material larger than 40mm is returned to the No. 1 silo for re-crushing, and the material smaller than 40mm is entered into the No. 2 regulating silo.
Conveyed by a belt conveyor to a PCL vertical impact crusher for shaping and sand making, the shaped material is again sieved through the 3YZS2460 vibrating screen, and the high-quality gravel aggregate is directly transported to the finished product area.
The size larger than 5mm is returned to No. 2 silo to be processed again. The fine manufactured sand smaller than 5mm is cleaned by two 3624 four-row wheel sand washing machines and then transported to two 2050 dewatering screens. After dewatering, it is transported to the finished product pile. After dehydration, the finished sand has a good color and appearance, and the sewage is recycled after passing through the sedimentation tank.
Sea sand is used in construction, which is easy to cause harm to steel bars and ingredients. The exploitation of natural sand is restricted. Now countries are vigorously supporting the project of replacing natural sand with machine-made sand. The project uses locally abundant granite and river pebbles as raw materials, and uses cost-effective, high-yield cone crushers and vertical impact crushers to produce sand and gravel aggregates with reasonable gradation and less return material and fine-quality machine-made sand. After washing, it is comparable to river sand and meets the needs of customers. It is a win-win project. Click to get the price of dewatering screen.
Send us a message
You can also send a message to us by this email export@lylzzg.com, we will reply to you within 24 hours. Now tell us your needs, there will be more favorable prices!