Sludge dewatering equipment of the sand making plant
Date: Sep. 18, 2021
If you are interested in our products, Please get in contact with us .
Date: Sep. 18, 2021
Chat Line
Send Inquiry
The sludge dewatering equipment in the sand field adopts a split structure. The length of the thickener can be designed according to the moisture content of the sludge and user requirements to achieve a better dewatering effect. This equipment outputs the muddy water formed by the mud water in the sand field construction. The mud separation processing system separates the mud into mud and recyclable water, and the mud is directly transported away by car. Recyclable water is an important rear guarantee for the normal mining of sandfield projects. The filter cake of the sand washing sludge dehydrator is thick and the dehydration efficiency is high. The mud cake is large, thick and has low moisture content.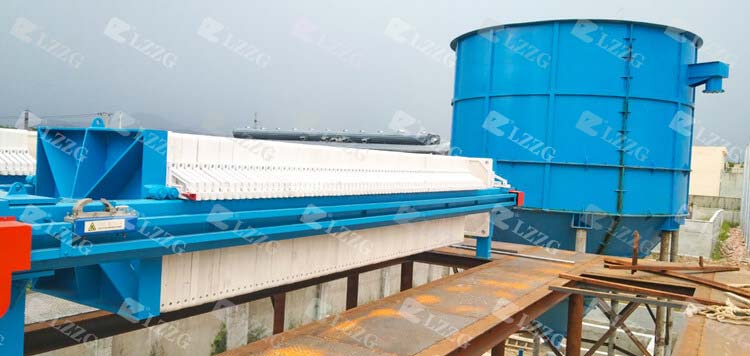 Equipment advantages
(1) High efficiency: The belt filter press is a continuous, closed, and automatic completion of the work during sludge dewatering without causing blockage. There is no need to flush the inside of the body with high-pressure water during the work process, so the production efficiency is high.
(2) Low labor intensity: The sludge to be treated is continuously input, and the clarified liquid and de-cemented cake are continuously discharged. The transportation is a fully automatic processing process, which greatly reduces the labor intensity of workers.
(3) Clean working environment: The belt filter press occupies a small space, and the supporting equipment is simple. The entire working process is fully enclosed, which will not cause pollution to the workshop and is easy to manage.
After-sales service
1. Equipment design, production, outsourcing, transportation, installation, debugging, training and operation.
2. Check the equipment on site and reissue it immediately if it is damaged or lost.
3. The technicians arrive at the site and are responsible for equipment installation and commissioning.
4. Operators provide equipment operation training, daily maintenance and repair training, so that operators and maintenance personnel can operate and maintain independently.
Send us a message
You can also send a message to us by this email export@lylzzg.com, we will reply to you within 24 hours. Now tell us your needs, there will be more favorable prices!