300t/h construction waste crushing and sand making machinery
Date: May. 29, 2021
If you are interested in our products, Please get in contact with us .
Date: May. 29, 2021
Chat Line
Send Inquiry
Recycled aggregates processed by construction waste through processes such as crushing, screening, iron removal, and separation of light substances are processed into permeable bricks, recycled mortar, PC prefabricated components, road water-stable layers, dry powder mortar, RDF clean burning rods and other environmentally friendly building materials products .
What equipment is suitable for construction waste crushing and sand making?
The main equipment includes crusher, sand making machine, circular vibrating screen, sand washing machine, sand dewatering screen, sewage pump, sewage flocculation tank, filter press, conveyor belt.
The construction waste crusher has the advantages of high production efficiency and good crushing effect. The machine is suitable for materials such as calcite, limestone, slag, shale, coal gangue, construction waste, and construction waste.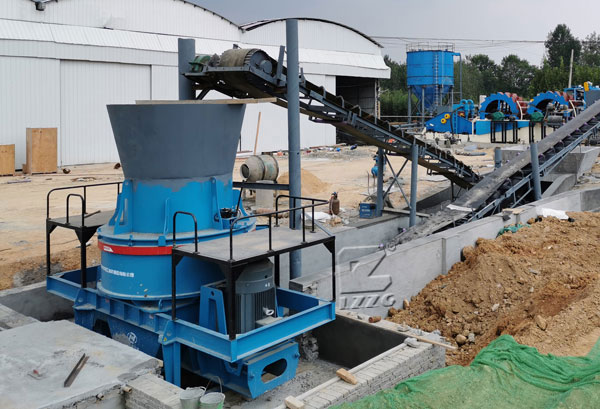 Performance advantages of two-stage pulverizer
1. Less hammer head wear: The two-stage pulverizer adopts a wear-resistant combination hammer head, which is used in combination with a hammer head and hammer handle. After the hammer head and the liner are worn, the position of the hammer head can be used repeatedly. One pair of hammer heads can be used for three times. Vice use.
2. Short replacement cycle: The double-stage pulverizer adopts a special displacement adjustment technology, which can rotate in both directions, so that the hammer head and the crushing tooth plate are evenly worn, reducing the number of replacement of wearing parts.
3. Simple operation: The two-stage pulverizer adopts hydraulic manual start of the casing, which can be opened and closed easily by only one person, which is not only light, fast and safe and reliable.
4. Uniform discharge particle size: The two-stage pulverizer overcomes the defects that the raw materials are sticky due to the large moisture content and are not easy to discharge. The production efficiency is high, the production efficiency is high, the crushing effect is good, and the discharge particle size is uniform.
The use of construction waste sand
1. It can be used to produce concrete and mortar of corresponding strength grade or to prepare building materials such as blocks, wallboards, and floor tiles.
2. Use waste bricks and tiles to produce aggregates, which can be used to produce recycled bricks, blocks, wallboards, floor tiles and other building materials.
3. The muck can be used for road construction, pile foundation filling, foundation foundation, etc.
4. Waste road asphalt mixture can be directly used to regenerate asphalt concrete in an appropriate proportion.
5. Waste road concrete can be processed into recycled aggregate for the preparation of recycled concrete.
6. Scrap steel, scrap steel bars and other scrap metal materials can be directly reused or refurbished for processing.
It can be seen that there are still many uses of construction waste, which can be used in various industries to realize value.
Send us a message
You can also send a message to us by this email export@lylzzg.com, we will reply to you within 24 hours. Now tell us your needs, there will be more favorable prices!