Vibrating feeder unbalanced, frequent tripping solutions
Vibrating feeder body is unbalanced
In practical applications, the vibrating feeder takes a long time to start up, and it is easy to wear the hoisting wire rope and damage the shock absorber, which will cause the unbalanced body of the vibrating feeder. Causes the relative movement between the relative moving parts of the machine body, the elastic movement of the feeder trough, side plate and other steel components, the impact of the material on the feeder trough floor and the vibration collision of the spiral spring, etc., will cause the feeder to run The noise is large; in addition, due to the unbalanced body of the vibrating feeder, the material is biased to one side during the feeding process and the feeding is uneven, which may cause damage to the vibrating feeding equipment in severe cases.
Solution: Strengthen the daily inspection of the vibrating feeder, and regularly maintain the vibrating feeder to ensure that the parts of the vibrating feeder are working properly. During the production process, staff on the post are required to carefully inspect the equipment and solve the problems in time to prevent damage to the equipment.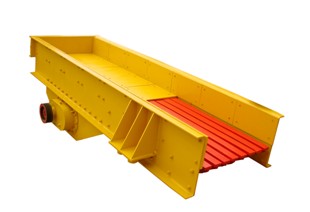 Vibrating feeder trips frequently
First, the post driver frequently starts and stops the vibrating feeder. When the equipment is continuously started, the starting current is large, and the contactor self-protection causes the vibrating feeder to trip;
Second, too much material accumulates in the chute of the vibrating feeder, which causes a large start-up load of the vibrating feeder, which can easily cause the vibrating feeder to trip;
Third, during the production process, due to the high moisture or stickiness of the materials in the silo, the "silo" situation will often occur. When the post personnel use the air cannon to handle the "silo", it is easy to operate improperly, causing the materials in the silo to vibrate. The impact force of the feeder is relatively large, causing the vibration feeder to trip.
Solution: First, strengthen the skills and knowledge training of job personnel, correctly use air cannons to deal with the "pengcang", and it is strictly forbidden to start and stop the equipment;
Send us a message
You can also send a message to us by this email export@lylzzg.com, we will reply to you within 24 hours. Now tell us your needs, there will be more favorable prices!