Manufacturer of accessories for TS dewatering vibrating screen
Date: Jun. 30, 2021
If you are interested in our products, Please get in contact with us .
Date: Jun. 30, 2021
Chat Line
Send Inquiry
Vibrating dewatering screen has the characteristics of large processing capacity, good dewatering effect, simple structure and convenient operation. This is mainly related to the structural design. The vibrating dewatering screen is mainly composed of a screen box, a screen frame, a screen, a vibration motor, a motor base, and a vibration reduction. Composed of springs, brackets, etc., let's first understand the characteristics of each accessory.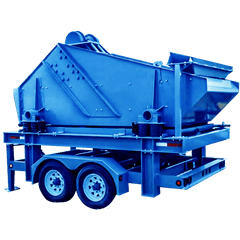 Lzzg dewatering screen accessories list
1. Screen box: It is welded by several steel plates with different thicknesses, and has certain strength and rigidity. It is the main part of the screen machine.
2. Screen frame: It is made of pine wood or wood with small deformation, which is mainly used to keep the screen flat and achieve normal screening.
3. Screen: There are several kinds of screens such as low-carbon steel, brass, bronze, stainless steel wire and so on.
4. Vibration motor: (Please refer to the instruction manual of vibration motor for details of usage and maintenance methods).
5. Motor pedestal: To install the vibration motor, the connecting screws must be tightened before use, especially three days before the trial of the new screen, it must be tightened repeatedly to avoid loosening and causing accidents.
6. Vibration damping spring: Prevent the vibration from being transmitted to the ground, while supporting the full weight of the screen box. When installing, the spring must be perpendicular to the ground.
7. Support: It is composed of four pillars and two channel steels, supporting the screen box. The pillars must be perpendicular to the ground during installation, and the channel steels under the two pillars should be parallel to each other.
The above are the characteristics of the various accessories of the vibrating dewatering screen, so the vibrating dewatering screen has many advantages when processing material dewatering and screening:
1. High efficiency, any powder or granule can be sieved.
2. It is easy to change the screen, easy to operate and easy to clean.
3. Unique screen mesh structure design, convenient and quick to replace the screen mesh, allowing the use of various screen meshes (nylon, special dragon, PP mesh, etc.)
4. The screen is exquisitely designed and easy to assemble, and one person can operate the screen.
5. Low energy consumption and low noise
6. The mesh is not clogged, the sealing is good, the powder is not flying, and it can be sieved to 200 mesh or 0.074mm.
7. Impurities and coarse materials are automatically discharged and continuous operation is possible.
8. The screen frame is made of wood and steel, which is light and durable, and it is easy to change the screen.
9. Simple structure and convenient maintenance.
10. The screen height can reach six layers, and three layers are recommended.
Longzhong Heavy Industry is a manufacturer specializing in the production and sales of vibrating dewatering screens. We have long been committed to providing high-quality dewatering and screening equipment for users in the mining industry. If you need to purchase equipment, please contact us.
Send us a message
You can also send a message to us by this email export@lylzzg.com, we will reply to you within 24 hours. Now tell us your needs, there will be more favorable prices!