Installation of shale shaker screen panel
Date: Jun. 24, 2021
If you are interested in our products, Please get in contact with us .
Date: Jun. 24, 2021
Chat Line
Send Inquiry
There are single-layer screens, laminated screens and bonded screens at home and abroad. The laminated screen can simultaneously increase the throughput and prevent the particles of the same size as the mesh from clogging the screen, and its liquid penetration rate is 2 to 3 times that of the ordinary screen. There are generally two forms of bonding of bonded screens: the first is to glue one or more layers of fine mesh screens on a layer of perforated metal plate; the second is to bond plastic or thermosetting plastics to thin The eye screen is cemented on the lining screen. Both screens increase the service life of the screen, but the throughput and blocking resistance are reduced.
Screens generally have two installation methods, hook-side installation and drum tensioning. Drum tensioning installation is theoretically feasible. However, because this tensioning method is limited by the technical quality and operation level of the well team workers, it is impossible to grasp the degree of tension of the screen, and there is no available for testing the tension of the screen. It is difficult to ensure the return of the laminated screen and the close contact between the laminated screen and the screen box due to the tightly fitting standards and methods, which makes the screen stress condition poor, resulting in a short service life of the screen. The hook-side stacked screen L9, theoretically, can automatically distribute the tension and drilling fluid load, but in fact, it is limited by the manufacturing and installation process, it is not easy to make the screen force uniform, which affects its service life The further improvement.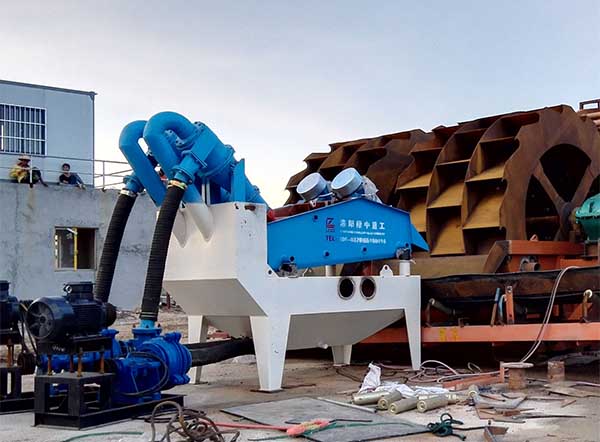 The advantage of the layered and tensioned stacked screen is that the hooks of the two screens are riveted separately, which is easier to ensure the size requirements, and the rigidity of the reel is used for tensioning, so that the screen is uniformly stressed. At the same time, the tension of each layer of the screen is individually adjustable, which makes it easy to make the surface mesh tightly close to the mat, which is beneficial to the work of the mat and achieves the purpose of extending the service life of the screen.
Recently, a new type of screen structure-corrugated cone screen has been developed. The service life of this corrugated cone screen is 3-4 times longer than that of ordinary flat screens, and the exposed area of ​​drill cuttings has increased by more than 40%. The effect on the HighG dryer is very good. HIghG dewatering screen instruction.
Send us a message
You can also send a message to us by this email export@lylzzg.com, we will reply to you within 24 hours. Now tell us your needs, there will be more favorable prices!