Fine Sand Separator Machine with a Capacity of 100T/H
Date: Feb. 17, 2022
If you are interested in our products, Please get in contact with us .
Date: Feb. 17, 2022
Chat Line
Send Inquiry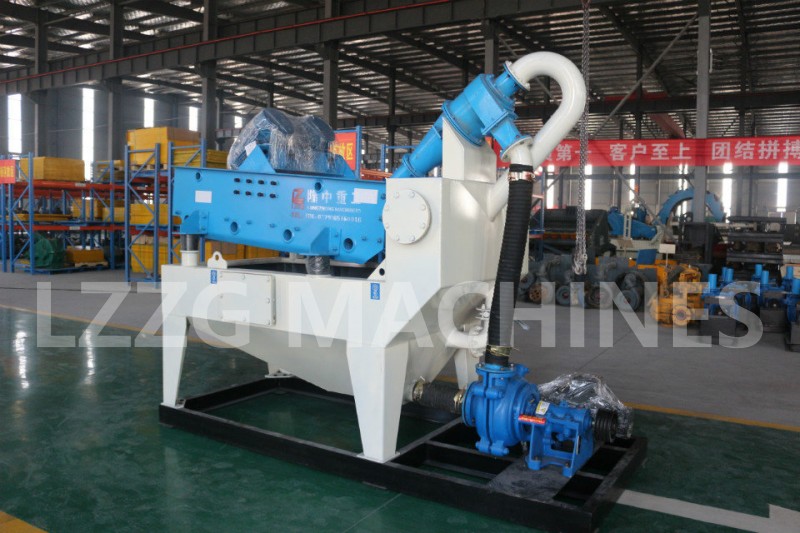 Sand Separator Machine with a capacity of 100T/H
Brief introduction of dehydration type fine sand recovery machine.
The dewatering fine sand recycling machine is a dewatering, screening and fine material recycling equipment that integrates material recovery and dewatering on the basis of the original recycling machine, and achieves the effect of one machine for multiple purposes. The equipment is generally used directly at the back of the sand washing machine. The dewatering screen further dehydrates the finished materials of the sand washing machine, and the recovery system extracts and recovers the fine sand in the tail water overflowing from the sand washing machine to realize the centralized dewatering of coarse and fine sand. Recycling fully solves the disadvantages of large water content, large mud content, dust and impurities that are difficult to remove in the finished product of the sand washing machine, and can improve the quality of the finished product.
Product name: Dewatering fine sand recycling machine
Treatment water volume: 120-360t/h
Applicable materials: river pebble, granite, limestone, basalt, coal gangue, weathered sand, river sand, yellow sand and other materials.
Scope of application: The equipment has been widely used in sand mining field, mine field, construction site, highway, road and bridge construction, concrete mixing station, water conservancy and hydropower, chemical industry and other industries.
Applicable production line: Sand making with river pebble, granite crushing and grinding, limestone crushing and grinding, basalt crushing and sand making, coal gangue crushing and sand making and other material production lines.
Send us a message
You can also send a message to us by this email export@lylzzg.com, we will reply to you within 24 hours. Now tell us your needs, there will be more favorable prices!